Elizabeth McKenna's top tips for Meghan's Wedding Flowers
When you are a florist, one may get a chance every so often to make something for royalty. The most prestigious commission is to craft something for a princess. I had the honour of making the first posy to be formally presented to Meghan Markle in Nottingham 1st December 2017. In the 6 months since there has been much speculation as to the flowers that Meghan and Harry will choose. Here are my top tips for the wedding flowers for the royal wedding.
Meghan and Harry have been eager to have accents of both British and US in the arrangements we have seen to now and they have not been afraid to forge new ground.
Meghan and Harry have chosen London based florist Philippa Craddock. Philippa has a masterful understanding of classic natural design. Her working style is sympathetic to the surroundings of Windsor and we understand will accent what is blooming and in season in Windsor.
So, my first top tip, Blossom trees. It is May, the grand cherry blossom in Windsor Great Park has been in full bloom for the past few weeks. The Apple blossom is due. My top tip is that we will see blossom in Meghan's flowers. It is the joy of early summer to see the blossom and I am certain that this celebration of English nature will be included, with a nod to all American apple pie.
The Duchess of Cambridge had Westminster Abbey adorned with hornbeams and field maples so it is doubtful we will see full trees on show, though expect to see blossom accented through the designs both in St George's Chapel and the reception.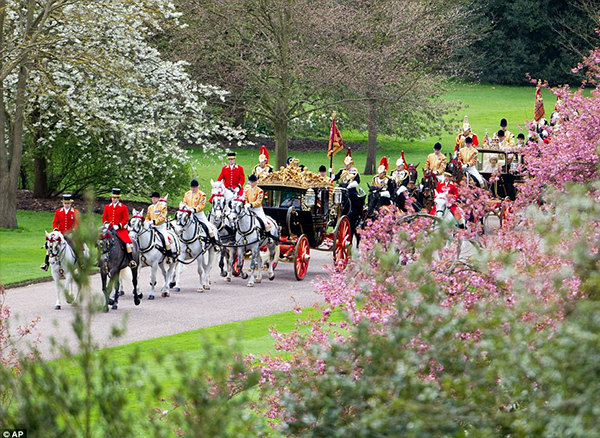 Blossom Trees. - Image from The Daily Mail.
I predict peony. I like to ask a bride to be, What is your favourite flower? When the reply is peony and the wedding month is May, then we have our primary flower. Top Tip, expect to see peony. Not just because it is widely regarded as Meghan's favourite flower, indeed she posted a rather romantic bundle of them on instagram, not only because it is the go-to wedding flower in May, but because, inside tip, the cost of pre-order peony in certain varieties has recently sky rocketed on the flower auction market, which indicates someone has reserved a rather large quantity of them.
If there is any flower I predict in the Meghan's bridal bouquet it is peony.
English garden roses are the perfect accompaniment to peony and blossom. The classic flower for the setting. Also expect to see spray roses, small headed and delicate these give soft detail and are perfect for bridesmaids little hands.
Myrtle has for millennia been symbolic of love. It was the sacred herb of Aphrodite. Venus wore a myrtle wreath. Queen Victoria, sensitive to the language of flowers and plants, carried myrtle in her bridal flowers, setting in motion one of the most endearing customs of our royal family in that all princesses carry a sprig of myrtle in their wedding bouquet. But not just any sprig, it is cut from Queen Victoria's own bushes at Osborne House.
Also in keeping with tradition is that we can expect the bouquet to be sent and placed on the tomb of the Unknown Warrior. Prince Harry I have no doubt will be in favour of this with his military background.
Color
Breaking from tradition with color Every royal bouquet I have seen has been in neutral white / off white tones. I predict Meghan will break with this and include colour in the palette. My prediction is that we will see a palette which moves into blush pink tones, especially if the current rarity of pale pink and white peony is any indication.
So what will the bridal bouquet look like? I predict a posy. Whilst the trend for oversized, irregular shaped design is being adopted by many brides, with the eyes of the world and history on her, I believe Meghan will opt for a timeless posy shape made softly discreetly with peony and english roses, in blush pink and cream white tones. Meghan at around 5'7" tall will not have anything too large, rather a manageable hand held posy.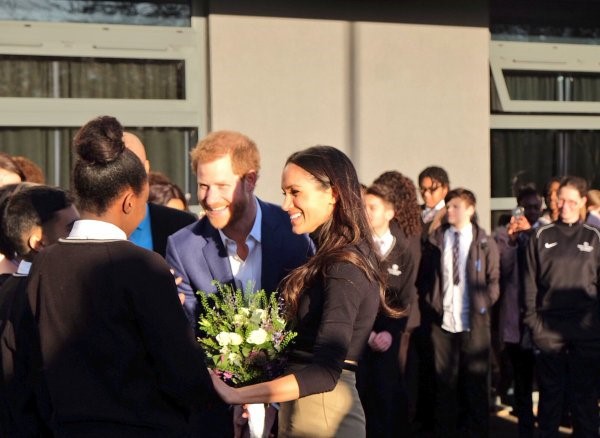 Meghan and Harry at the Nottingham Academy, receiving my posy. - Image from the press association.
My best to Philippa Craddock and her team, I believe they will showcase the beauty of Britain, but more importantly help to make special Meghan and Harry's Wedding Day.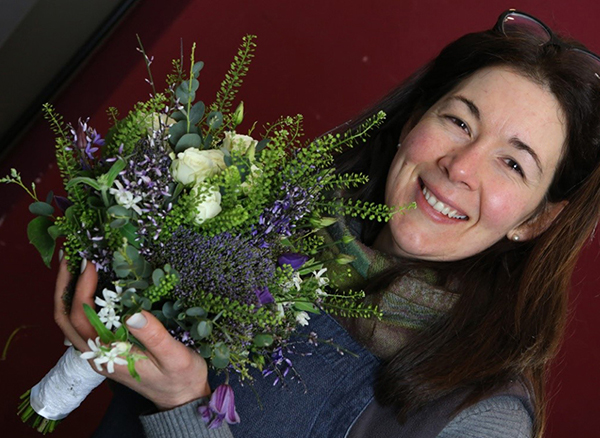 Elizabeth McKenna with the posy. Image from The Nottingham Post.